more hoop info:
Patterns are grouped into modes for easy navigation. At the start of each mode, the hoop will begin a 6-second autoplay of the patterns in that mode. Use the color 7-key remote control to navigate modes and settings.
Classic – Scroll through multiple classic styles of our well known and loved color schemes. Luna, Saffron, Neon, Julep, Element, Jasmine and more.
Rainbow – Modulate the speed of the rainbow morph effect using the Speed button. Turn up the speed so the rainbow appears white when still, but in motion unlocks the full spectrum. Slow the speed down for a more chill vibe.
Aura – Elemental color schemes play with color gradients and complementary pairings. Fire, water, sunset, desert, earth, pastels, and other thematic combinations.
Halo – Solo colors can easily adapt to their surroundings or enhance flow-focused routines. Use the Speed button to stop the color cycle and fine tune to your favorite solid colors.
Chasers – Wispy chasers bend the light and use minimal power. Great as a beacon for your friends to find you while keeping the battery usage low.
Included Accessories:
Intuitive 7-key remote control
2 removable lithium-ion batteries, single charger
Lightly sanded with a layer of hoop wax added along the inner ring of the hoop.
Battery Run Time:
Battery run time (5/8 hoops): 1-4 hours depending on the mode
Battery run time (3/4 hoops): 2-4 hours depending on the mode
Bright and durable LED strip give the perfect balance for battery power saving.
Tubing Options:
5/8 hoops: 33.5 in. OD to 24.5 in. OD
3/4 hoops: 38.5 in. OD to 24.5 in. OD
HDPE tubing (more durable material, milky-white diffused – recommended)
Polypro tubing (stiffer with a bounce, clear and more prone to cracking)
Hoop opens up so it can be collapsed for transport.
Control for navigation, syncing up changes with other hoops, animation speed, and adjust brightness. Even if your remote isn't with you, you can still select modes by turning the power off and on again.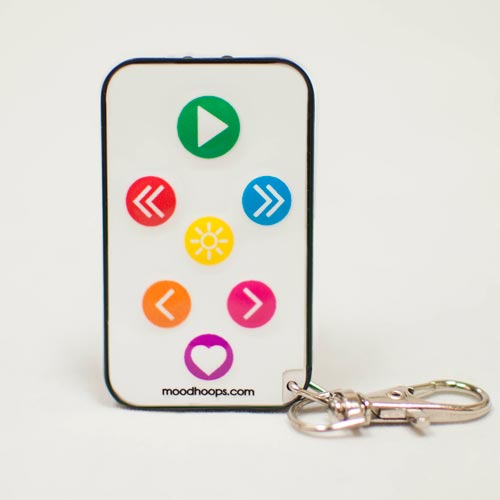 Hoop Sizes available
5/8 hoops: 33.5 in. OD to 24.5 in. OD
3/4 hoops: 38.5 in. OD to 24.5 in. OD
PixelHoop
Size

3/4
HDPE
tubing

5/8
HDPE
tubing

38.5 in. OD

12.5 oz

36.5 in. OD

12.1 oz

35.5 in. OD

11.8 oz

34.5 in. OD

11.4 oz

33.5 in. OD

11.2 oz

9.3 oz

32.5 in. OD

10.8 oz

9.1 oz

31.5 in. OD

10.7 oz

8.8 oz

30.5 in. OD

10.25 oz

8.3 oz

29.5 in. OD

10 oz

8.3 oz

28.5 in. OD

10 oz

8.2 oz

27.5 in. OD

9.8 oz

7.9 oz

26.5 in. OD

9.3 oz

7.7 oz

25.5 in. OD

9 oz

7.4 oz

24.5 in. OD

8.6 oz

7 oz
*Hoop sizes are measured by the Outer Diameter (OD). This measurement is taken across the widest part of the hoop, including the width of the tubing.
The PixelHoop comes lightly sanded with a layer of hoop wax added along the inner ring of the hoop.
Sanding and hoop wax is clear and doesn't block the signal from the remote control. It's best not to use regular grip tape with the PixelHoop, as grip tape (whether in black or white) blocks the signal and shortens the signal distance.
If you would like a different grip option of no sanding or 3M grip tape instead, please write in! Each hoop comes with wax added by default. Keep up the epic grip by adding a hoop wax heart into your cart with the hoop. It's easy to reapply and upkeep your hoop's grip.
5/8″ hoops are light, bouncy, and fun, but it's good to think about what kind of hooping style you'd like to use with the hoop when choosing both the thickness and material of the tubing. 3/4″ hoops are made with thicker tubing that is slightly heavier, but also sturdier, and considerably less flexible than 5/8″ hoop tubing. If you like to hoop with a faster or more aggressive hooping style, the thicker 3/4″ tubing may be the best option to keep up with faster paced style.
Fast breaks and reversals in 5/8 can cause the shape of the hoop to become warped, or the tubing can become over extended and kink. If also in polypro, the tubing is likely to crack from the stress.
Kinked and cracked tubing is not covered by the warranty, so take extra care when selecting your hoop tubing options.
We recommend HDPE tubing as the default option for LED hoops. Since LED hoops have batteries and weighted internals, the lightness of polypro is not as noticeable from an HDPE LED hoop made in the same size. HDPE tubing is naturally a more flexible material and absorbs impacts well. Polypro tubing is stiffer, giving it a different kind of feedback during hoop play. However, polypro tubing is more brittle in comparison, and prone to cracking on impacts or when extremely flexed. The added weight of LEDs, batteries, weighted internals only increases the chance of the tubing cracking. Polypro is extra susceptible to cracking in cold temperatures.
If you're at all unsure about whether you want the extra worry of cracking your hoop polypro hoop, HDPE is definitely the better choice, especially for the more flexible 5/8 tubing! With polypro LED hoops, certain moves like breaks, reversals, or even regular hooping can cause the tubing to crack. Also, some sort of trauma to the hoop, like a high impact hit or landing on it accidentally when trying to jump through it, is what can result in the hoop tubing becoming cracked.