Hoop Size
Effective hoop sizing comes down to your height/size, current experience & your projected goals with this hoop
Tubing Size
5/8 (lighter, more flexible)
3/4 (sturdier, more robust)
This important detail affects how the hoop plays, the weight & battery life
Battery
Removable battery means you can swap out to keep glowing. Smaller batteries have less glow time, but fit into thinner hoops.
Tubing Type
HDPE (more durable, default option)
Polypro (stiffer with a bounce, more prone to cracking)
Hoop Sizing Rules of Thumb
Hoop Tubing Size: 5/8 vs 3/4 tubing
Hooping Styles & Hooping Moves
Hoop Sizes & Tubing Width
Large Hoops and Beginner Hoops
Smaller and lighter hoops
Once you've been hooping a while and have started to work up skill, or if you like to dance fast, you may want a (medium) 36 inch hoop or smaller. The smaller 36 inch hoop lends itself to a more varied mixture of on body and off body hooping. The 3/4″ thick tubing holds up well to breaks and reversals, while still being light enough to keep from getting fatigued too quickly.
Once you've logged lots of hooping hours, you'll start to notice hooping with a bigger hoop becomes more difficult as you try to quickly transition from one trick to another.
Smaller hoops ranged 33 inches and below may not ideal for sustained spinning for a beginner but are perfect for transitioning back and forth from core hooping and off-body hoop dancing, which is a key component in saving strength during long dance sessions. Hoops sized 33 inches and below come in both ultra-thin 5/8″ featherweight tubing and in 3/4″ tubing allowing you to fine tune your hoop's specs to your hooping style as it evolves.
Mini Hoops
Minis come in sizes ranging from 18″ to 23″ and are generally dual-wielded and used to do weaves and other poi-style or fan-style moves. You can also perform lots of sophisticated isolations with one or two minis.
We offer mini hoops as Polypro dayhoops, Classic Mini hoops, and FutureHoop Minis.
Check out our Tutorials page for some great Multiple Hooping tutorial videos to help you progress with minis and double hooping!
Fire Hoop Sizing
Fire Wicks will add about 5 inches to each end past the tubing, for a total of 10 inches added to the clearance of your hoop. Your regular sized hoop or a hoop sized slightly smaller may be a good option for choosing a Fire Hoop size.
Since the Fire Wicks are removable you can choose any hoop size to add to your current hoop collection. If this hoop will be mainly for fire hooping, it's good to select a hoop size that you're comfortable with already.
The Fire Wicks are removable and can fit on 3/4″-7/8″ or 5/8″ tubing. Fire Hoops get your choice of a standard size HDPE hoop, which can also be upgraded to Polypro in any color! You can also add decorative hoop tape to make your hoop sparkle in the fire light!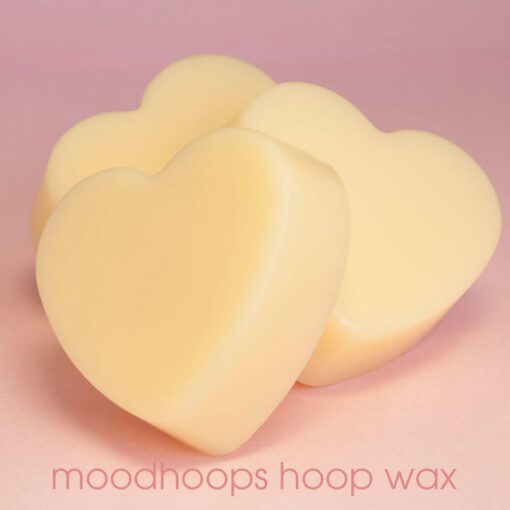 Hoop tubing with no grip added (like sandpaper, grip tape, or hoop wax) is very slick and can be difficult to keep up, even for an experienced hooper. Don't be discouraged though! Adding grip along the inner ring of the hoop is the first place to start, but you can also add grip to the outside of your hoop to get a fuller contact.
Our LED hoops with a layer of Hoop Wax added for good grip. Hoop Wax is a transparent and lightweight solution to excellent hoop grip. Add an extra Hoop Wax heart to your cart so you can keep reapplying.
Hoop wax is an inexpensive way to get a clear film of grip on your hoop tubing. Reapply the grip wax as needed, or scrape it off to apply a different grip method. The more wax applied to your hoop the better it sticks! This stuff is really amazing!
3M grip tape is a clear silicone tape that helps your hoop keep contact with any surface. We offer this tape in different length increments at $0.75 a foot. You can get rolls of the 1/3″ grip tape in 10 ft, 15 ft, and 30 ft lengths! 10 feet of tape is just enough to do the inner ring for hoops 38″ and smaller.
We also offer 1/2″ and 1″ grip tape (gaffer tape) in a rainbow of colors! This tape makes a great color accent, whether used on the inner ring of an LED hoop, or twirled around the hoop tubing.
Sandpaper is another effective and inexpensive way to add grip to your hoop. Using 100 grit or 80 grit sandpaper along the inner ring, or even all around the hoop tubing, add grooves into the hoop, which gives more surface area and texture for your hands, clothes, and body to make contact with.
It's important to note that, once your tubing is sanded, grip tapes may not stick as well to just the inner ring of the tubing. Grip tape may instead need to be wrapped around the length of the hoop in a large spiral so there's plenty of surface area for the tape to adhere to.