LED Moodhoops
Each LED hoop is bright, expertly crafted, and comes with a rechargeable battery and easy on/off switch. Our Shop features vibrant LED colors, beautiful patterns and easy hoop customization.
Constructed to be durable and partially collapsible, with an awesome right out of the box hooping experience, and followed up with stellar customer service <3
---
Classic Hoop features:
removable battery design, so you can play all night
rechargeable lithium-ion battery and charger included
smooth, internal battery connection
hoop wax pre-applied
partially collapsible for travel and storage
simple and durable on/off mechanism, no tiny switches
counterweight installed to balance with the battery
HDPE and Polypro tubing
no-rattle design
1 year warranty
---
Hoop Wax for unparalleled grip
Moodhoops Hoop Wax is a lightweight, removable and transparent alternative to sanding or taping your hoop.
Hoop wax rubs smoothly on your hoop to provide unparalleled grip, but doesn't come off on skin or clothing.
Rub vigorously along the inner ring of your hoop to create a textured surface.
PixelHoops, Classic LED Moodhoops and FutureHoop Shuffle hoops comes with Hoop Wax pre-applied to the hoop.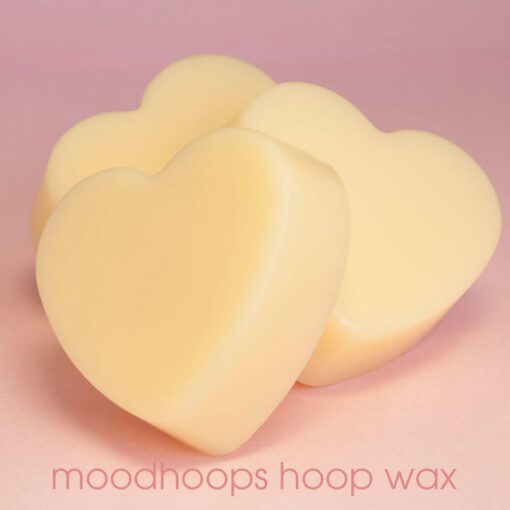 ---
Want to design a Custom LED hoop? We can help you to create a hoop born from your imagination and brought into the light! We have a great selection of LEDs in many different colors and light textures.
---
Twice the LEDs for double density lights
Classic Moodhoops (in most styles) are also available with 'Twice the LEDs', which repeats the pattern around the hoop a second time. This creates an unbelievably bright and full effect!
The extra LEDs do use up the hoop battery faster so we include an extra battery at no additional charge.
This option can be chosen as an add-on for most Classic Moodhoops right below where you choose your hoop size.
---
Hoop Batteries
Each Classic LED Moodhoop comes with one lithium-ion hoop battery, a battery case, and a single charger. Each FutureHoop Shuffle or Remote hoop comes with four lithium-ion batteries, a battery case, and a single charger.
3/4″ LED hoops use AA size li-ion batteries (14500), 5/8″ Featherweight LED hoops use AAA size li-ion batteries, 7/8″ hoops use large, specialty sized li-ion batteries (18650).
Additional batteries are available as singles or a 3-pack and ship free with your hoop. Add extra batteries to your cart to make sure you'll keep consistent glow. Additional chargers are also available.
Purchase new batteries when they start to show signs of wear and tear. Moodhoops use specialty Lithium-ion batteries that have 3x the power of a normal battery to be able to light up your hoop. All batteries and battery charging should be done with adult supervision. Do not leave a charging battery unattended. Do not put a lithium-ion battery into any other device.
Read and follow all provided instructions and warnings about the lithium-ion batteries used in your hoop. Full details about Battery Safety and Care are included with each LED hoop, but you can also read our full Battery Safety and Care Guide.
---
Tubing sizes and options
Our hoops are measured by the OD (outer diameter of the hoop). This measures across the widest part of the hoop including the width of the tubing.
Our expertly handcrafted FutureHoops and Classic LED hoops come standard in 3/4″ OD tubing in both HDPE and Polypro. Select Classic styles and the FutureHoop Shuffle come in ultra-thin and ultra-light Featherweight 5/8″ OD tubing in HDPE and Polypro.
Polypro day hoops come in numerous colors, in both 3/4″ and 5/8″ OD! Taped Travel hoops are made of 3/4″ HDPE. Beginner Hoops are made of 1″ OD tubing.
Fire Hoops come standard in 3/4″ HDPE, but 7/8″ HDPE is also an available option for larger hoop sizes. Upgrade your Fire Hoop to color polypro tubing!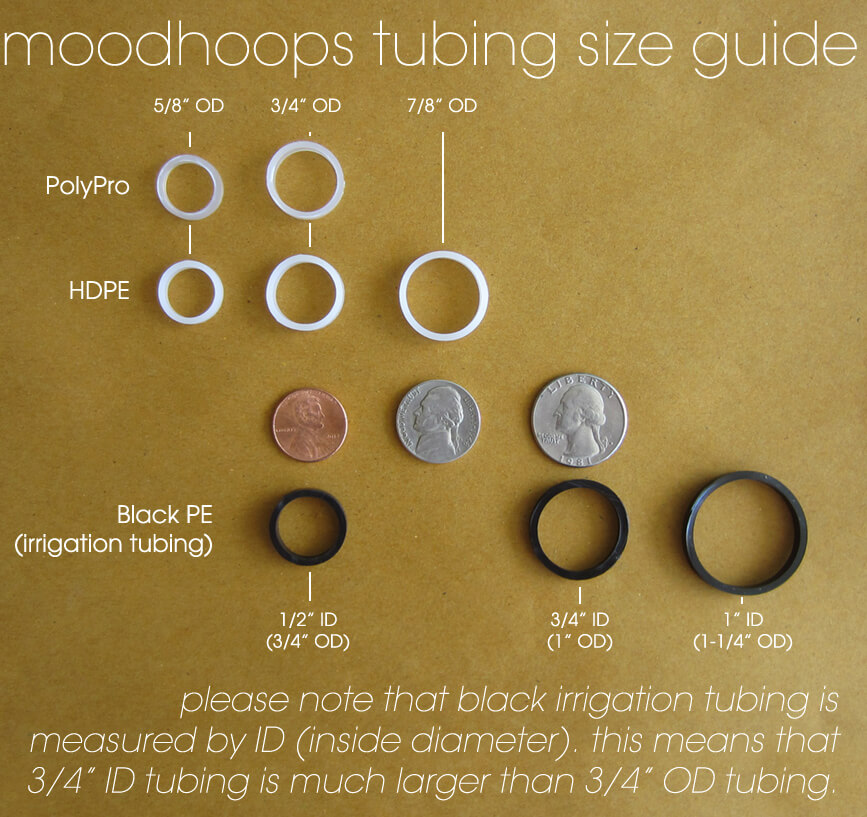 ---
Hoop Sizing & Gift Guide
Check out our Hoop Sizing Guide for help choosing a size.
Check out our Gift Buying Guide for assistance in choosing a gift for someone else 🙂
We also offer Gift Certificates and are happy to help with any questions in choosing a hoop!
---
FutureHoop Comparison Guide
Designer

Pro

Remote

Shuffle

5/8 tubing
option

✓

✓

load
custom
bitmaps

✓

removable
battery

optional

✓

✓

gapless lights

optional

✓

LED
resolution
LEDs/meter

36/62

36

36

36

remote
control

7-key

44-key
&
7-key

44-key
&
7-key

customize
patterns
using
44-key
remote

✓

✓

battery
gap size

2 LEDs
gapless
1-2 HD LEDs
5 HD LEDs

gapless

2
LEDs

2
LEDs

stop on a
pattern

✓

✓

✓

save
patterns
to favorites

✓

✓

✓

tap tempo
control
change
intervals
from
remote

✓

✓

✓

6 sec
auto
play

resizing

✓

✓

✓

✓
---
---
Please contact us if you have any questions, we are always happy to help!
---
[SBInstagramFeed hashtag=moodhoops]