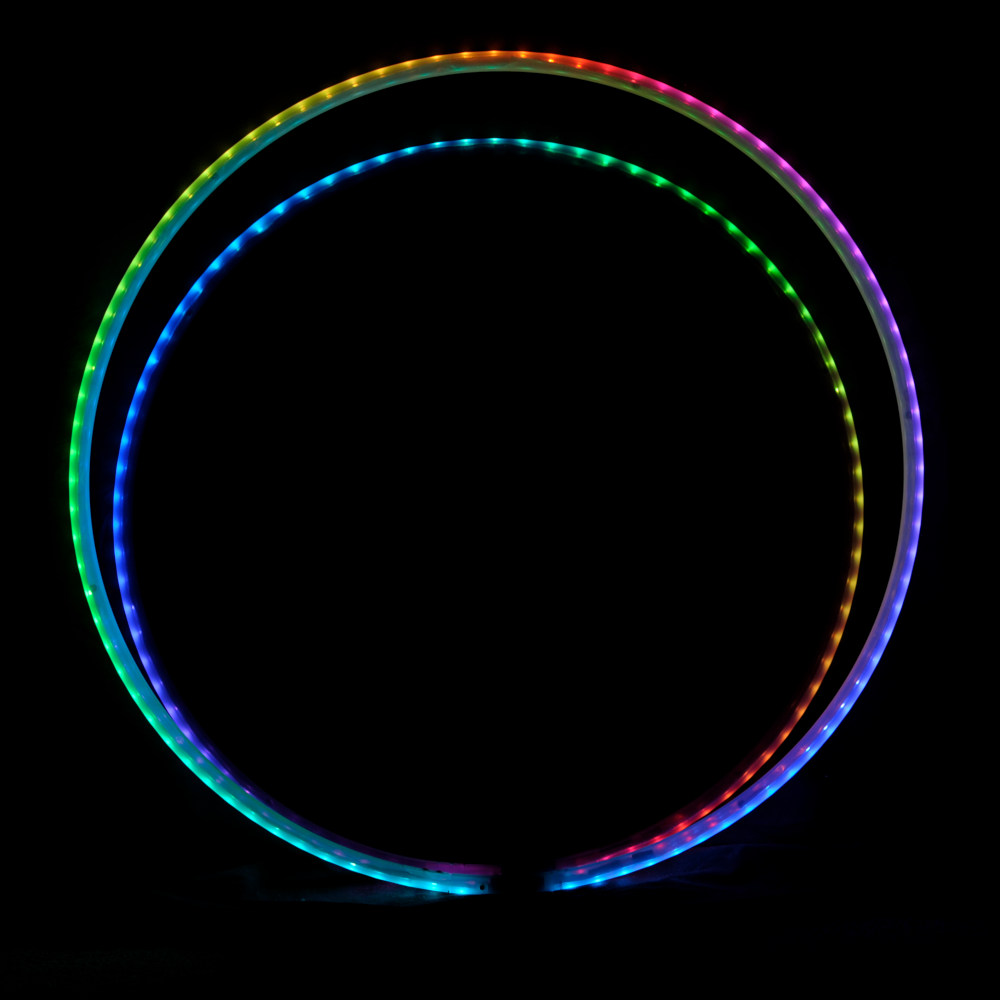 The act of hula hooping may look simple, but it can feel very complicated – especially if you're trying to teach it to someone else or trying to learn a fancy move yourself. Fortunately, there's a rhythm to hula hooping – and that makes learning easier.
Here is what you need to know to learn to hula hoop in three easy steps:
1. Wear the Right Clothes
Start by changing into flexible, fitted clothes that won't interfere with the motion of the hoop. Stretchy athletic pants, a fitted comfortable shirt and no jewelry is best. You can wear clothes like jeans and a t-shirt, but anything that's loose could get in the way and interfere with your ability to hoop. 
2. Step Into the Hoop and Spin
Step into the hoop and bring it up to the level of your waist. Spin the hoop around your waist in the direction that feels most comfortable for you. If you're a right-handed person, you may be more comfortable spinning the hoop in a counter-clockwise motion. If you're a left-handed person, try spinning the hoop clockwise.
3. Move Your Hips, Back and Stomach
The hoop will move across your stomach. As this happens, push your stomach forward. Next, the hoop will move across your waist and to your back. Thrust your back out to meet the hoop, then push your stomach forward again. After a while, you'll get a sense for how the rhythm of the hoop is affected by your body. Before this happens, the hoop may fall to the ground once or twice. That's alright! Just keep going.
How to Hula Hoop for Fitness
Although many people used hoops as toys when they were children, hooping is also an excellent fitness tool for adults. Hula hooping for fitness is similar to hooping for fun, but with a few key differences.
1. Buy the right kind of hoop.
Check out our Hoop Sizing Guide.Toy hula hoops are relatively lightweight and designed to be used by children. They are smaller than hula hoops for adults. If you're an adult who would like to work hooping into your fitness routine, then it's important for you to find a hoop that has some weight (between 1 and 3 pounds) and is wide enough to be used on your hips. Try the hoops out before making your purchase.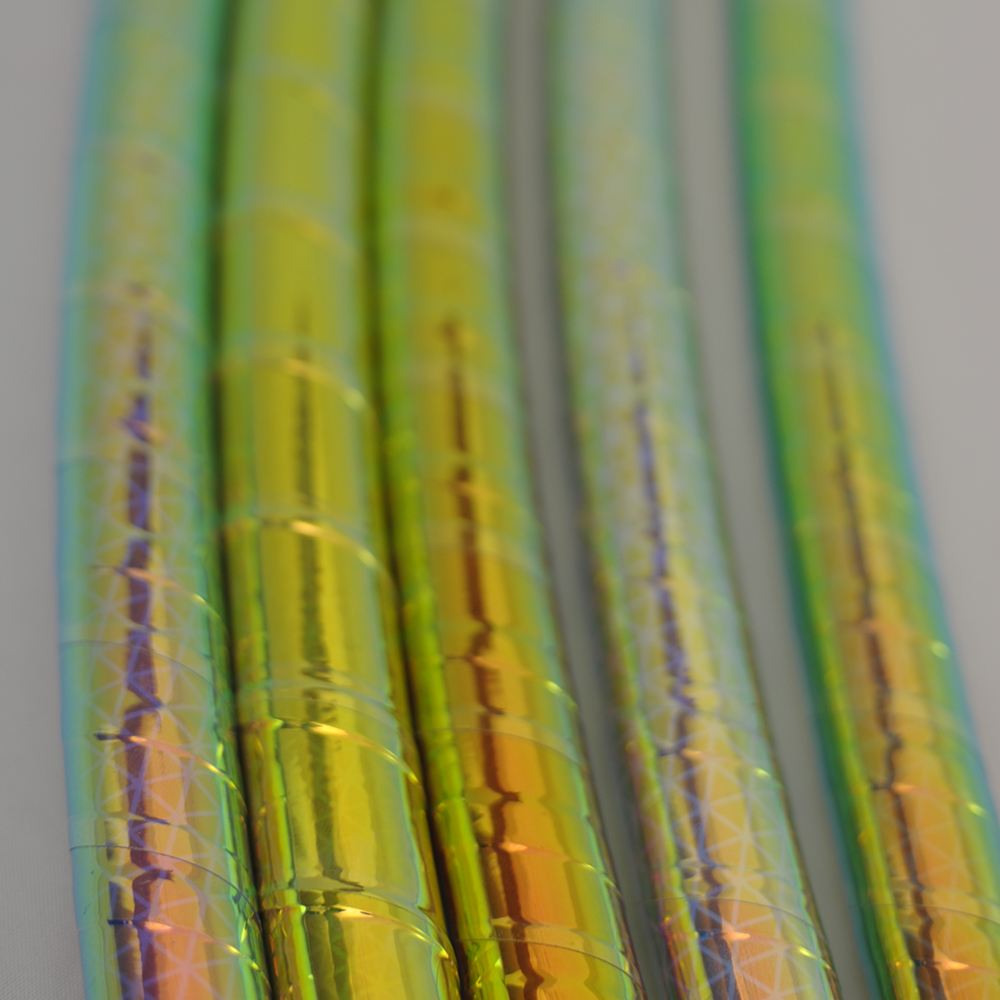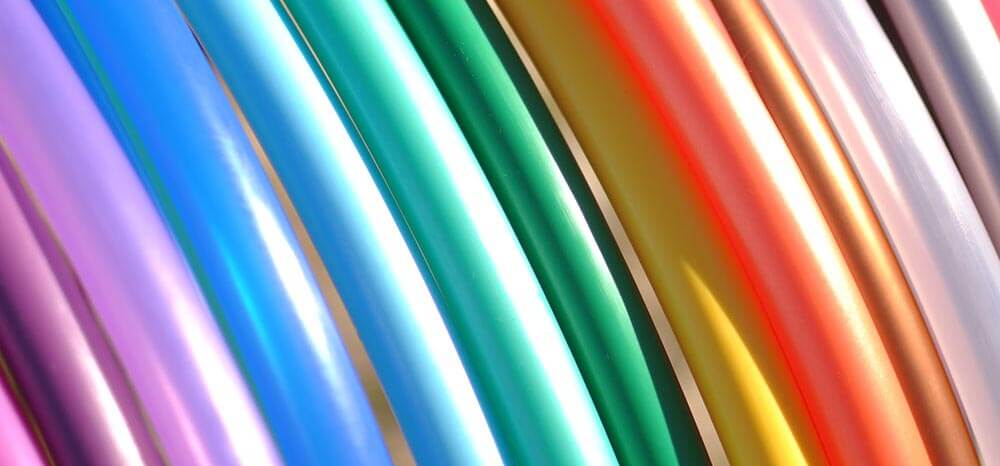 2. Integrate it into your fitness routine.
Keep your hula hoop on hand to be used during your fitness routine. Set a time limit for hooping, and continue increasing the time that you spend hooping as you become better at it.
3. Set it to music.
Since the hooping routine is supposed to last for a certain length of time, try hooping to music. This will make hooping more fun and will make it less likely that you'll get tired and end the hooping prematurely.
How to Hoop Creatively
Hooping has turned into more than just a fun game that kids can play. It's also an expressive activity that can be performed outdoors, in groups, and alone in your living room. Ultimately, the trick to learning new moves with the hula hoop comes down to practice. Below are some moves you may learn. 
Neck Hula Hoop
The hula hoop can be swung around the neck if you follow these suggestions. 
Start the hoop by spinning it around your neck in the same way you would start spinning your hoop around your waist.

Keep the hoop low on your neck, below your Adams' apple. Avoid the tender areas beneath your chin and jaw. 

Shift your weight from one leg to the other to keep the hoop rotating around your neck. 
Around the Legs
When hula hooping around the legs, start by putting your legs together with no space between them. Grip the hula hoop around your thighs just above your knees, then spin the hoop and let go. To keep the hula hoop in motion, start rocking back and forth on your heels, bending and straightening your knees as you go. The motion will be quick and very repetitive, as the hula hoop spins quickly around your body. 
Dancing and Festivals
Many people who love hooping enjoy doing so at festivals and in dance situations. You'll have to find a routine that works for you. These tips can help:
Practice your routine well before taking it public. Don't perform any moves that could go wrong, causing you to lose the hoop and hit someone. 

Find a hoop that works for you. People at festivals often use decorative hoops that have beauty and style. Look for a hoop that has LED lighting for extra visual interest. 

Give yourself lots of space for performing your routine. Stay to the back of the crowd to avoid hitting others.
How to Teach a Child to Hoop
To teach a child how to hoop, start by finding a hoop that is the right size for your child. Measure your child from their belly button to the ground, then add three inches. This measurement is the right size for your child's hoop.
Once you've found the right hoop for your child, instruct them to stand in the right position with their back straight and legs spread apart. Ask your child to hold the hoop against their back and put their hands on either side of the hoop.
Finally, ask your child to spin the hoop around their hips and begin to rock their hips front and back to keep the momentum of the hoop going. If the hoop keeps falling to the ground, it may be that your child is trying to move their hips all the way around in a circle. Gently correct them, and let them know that the only motion they need to make is to move their hips forward and backward. If they're having a hard time with this, ask them to practice without the hoop around their hips. If you are still struggling, check out this WikiHow about how to hoop for additional tips.
Have Fun!
With practice, hooping can turn into a delightful activity that you and other members of your family can enjoy. Just remember to keep trying!